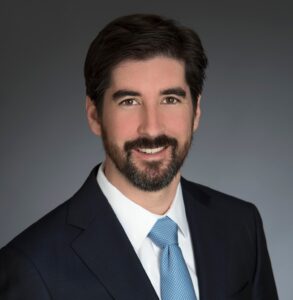 Jonathan Howell is an attorney who has spent the majority of his career representing individuals and families who have been hurt or lost a loved one due to the fault of someone else or a business.
He was born and raised in Los Angeles, California where he lives with his wife and two children. He attended Crespi High School in Encino where he played water polo. Jonathan then went to the University of California, Irvine for his undergraduate degree in computer science. The rigorous and mathematical requirements for a science degree has helped him apply the same principles to investigation and analysis of legal cases. He also always had a deep interest in social justice issues, which compelled him to apply to law school.
He sees the law as a great equalizing force. The American justice system allows for redress by individuals against the largest corporations and government. The idea that a single ordinary person could triumph over even the largest adversary appealed to Jonathan and he wanted to make his life work doing just that.
While in law school, he interned at various law firms and non-profits. It was an internship with the now defunct firm of Moreno, Becerra & Casillas that Jonathan felt the greatest connection. There he represented individuals in a range of cases from police brutality, Catholic priest sexual abuse cases, auto collisions, train collisions and mass injury cases including a BP oil refinery explosion.
After becoming an attorney, Jonathan worked for an insurance defense firm focused on medical malpractice and defending condo homeowner's associations. He did that for a year, learning the strategies and tactics of defense insurance companies. He then returned to representing individuals in personal injury cases and has been doing that ever since. He's handled nearly every type of personal injury tort action including automobile cases, trucking cases, premises liability cases, medical malpractice cases, product liability cases, intentional tort, cases against governments, municipalities, school districts and other public entities, nursing home cases and elder abuse, sexual assault cases, toxic mold cases, and toxic exposure, food poisoning cases, unfair trade practices, employment discrimination and harassment, wrongful death, bicycle and pedestrian injury cases, cruise ship and airline cases.
Jonathan has represented individuals against the largest corporations, including international hotel chains, airlines, and government entities from the City of Los Angeles to the United States of America. He's also handle cases in state court, federal court, and in a tribal court involving an Indian Casino. He has experience handling cases in other states including federal court in Hawaii and state court in Montana.
Jonathan has spoken about legal issues as well as written a number of articles, published in legal periodicals. He has been recognized by his peers and has been designated a Super Lawyer. He was also nominated as a rising star by the Consumer Attorneys Association of Los Angeles.
When not practicing law, Jonathan spends time with his wife and kids. He enjoys hiking and surfing.
Published Articles:
Lessons from Trials with Minimal Medical Treatment, Advocate: Journal of Consumer Attorneys Associations for So. Cal., January 2016
Guidance on the Use of Summaries of Evidence at Trial, Los Angeles Lawyer, Dec. 2015.
How to Maintain Your Balance While Defending Depositions, Los Angeles Lawyer, Oct. 2011.
How to Enjoy Summer Camp without Getting Soaked, Various Newspapers in the Los Angeles, June 2009.
Distinguishing between Similar Causes of Action, Los Angeles Lawyer, November, 2008
Speaking Engagements
October 19, 2016, Panelist at CAALA New Lawyers Roundtable, "Getting Trial Experience & Succeeding as a New Attorney"
January 5, 2017, Speaker at Provisors, Warner Center I, "Don't Blow It: Deadlines in Personal Injury Cases"
CALL NOW IF YOU HAVE BEEN INJURED
Free Consultation
(888) 712-0017
[gravityform id="1″ title="true" description="true" ajax="true" tabindex="49″ field_values="check=First Choice,Second Choice"]